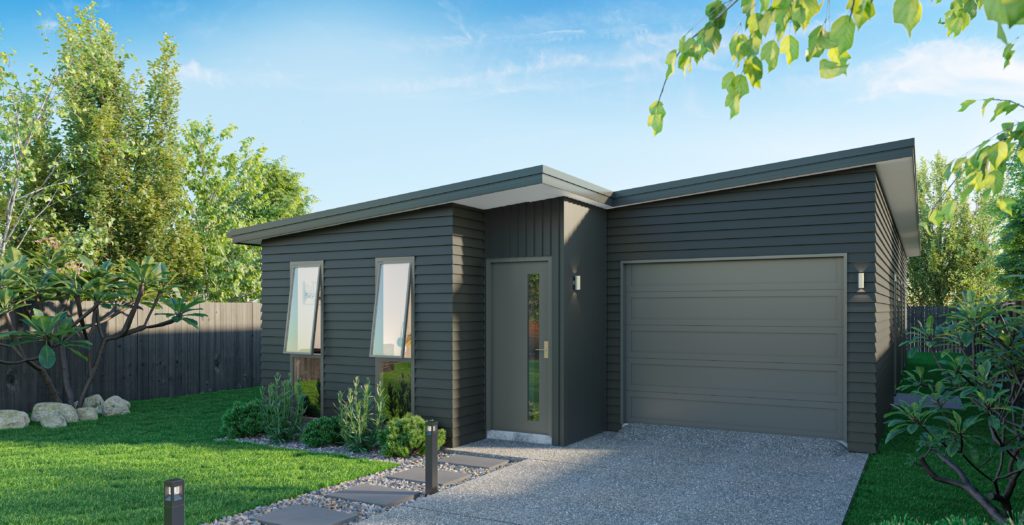 Design
If you have a narrow section, look no further! It's ideal for a chic inner city pad or a lovely home to raise a small family. The Awatere is a pragmatic plan genuinely making the most of every available square metre. With an easy breezy vibe, kitchen and living zones eagerly meet the alfresco area capturing maximal outdoor light for your daily serotonin boost! Upon first glance an unanticipated 3 bedrooms and two bathrooms await you providing everything a couple or small growing family need for restful slumber and modern convenience.
A simple and stylish abode ready for you to make your own.
Floorplan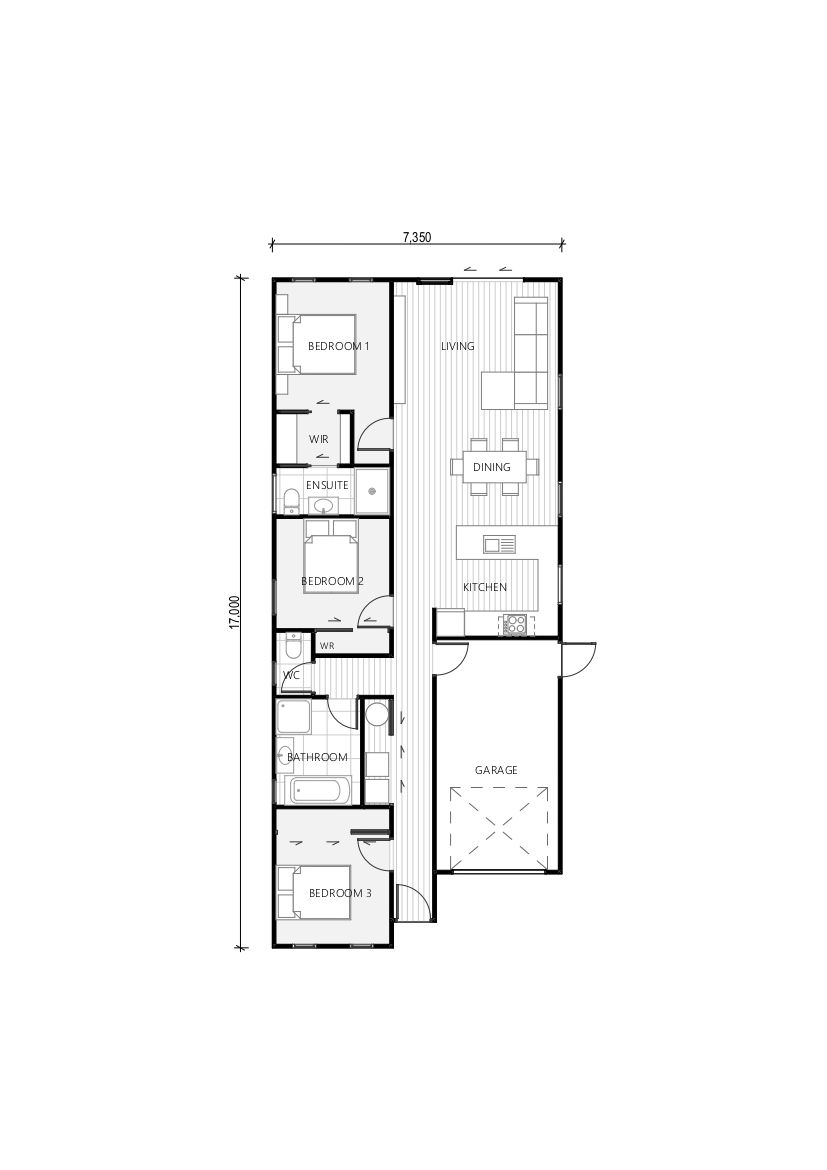 Standard inclusions with all designs
Coloursteel Roofing – Environmental Choice Certified
Upgraded insulation – Knauff Earthwool chemically neutral insulation. Above Code Compliance R5.2 to ceilings, R2.6 for North Island and R2.8 for South Island to exterior walls
Perimeter edge foundation insulation (By insulating the edge you heat your home minimising thermal loss)
European appliances selected for quality, energy efficiency and performance
WELS rated tapware for increased water efficiency
Low VOC paints and adhesives
Wall mounted heat pump (ducted upon request)
Doubled glazed windows with upgrade option available ie. Low E, Argon Gas or Thermally broken to suit your needs
LED lighting – for increased lifespan, cost savings and better for the environment
Rheem main pressure hot water cylinder
Designed for efficient ventilation
Pre-wired for Electric Vehicles
Pre-wired for Solar
ISO 50001 Energy Efficient Home Certificate – Internationally compliant for energy efficiency
*Disclaimer
More upgrades are available upon request. As part of our ongoing improvements we reserve the right to vary specifications according to regional requirements and climatic conditions.
Similar home designs
Frequently Asked Questions
When it comes to building your new Green Home, we work with you throughout the entire process. We want to make sure that you receive not only the best experience while building your Green Home, but the best home available. We work with everyone's budget! Early on in the design process, our builder will give you an indicative estimate of what your design concepts – whether it be on a napkin or professionally drawn! From this point, we work with your budget to give you what you and your family want!
Of course! When you make contact with GH Builders, make sure to mention that you are looking at knocking down an existing structure so that we can begin to understand your situation, and build around what you need and want.
Absolutely! We are constantly growing our design range however with our inhouse design team, we can flip, alter, add, remove, grow any element of each home. We want our off the wall homes to be a platform for you to start from. We are building a home around you and your lifestyle – so changes will nearly be expected! If you don't like having a 4th bedroom, and would rather a second living room, make sure to tell us!
Best way to start is by scribbling your dream onto a piece of paper. 80% of our Green Home owners started out with a napkin and a dream – and it is our mission to give you the home of your dreams. When you have an initial Discovery Meeting, make sure to bring all iterations of your future home so that our builders can have a look and work with you to make sure that it will work on your block and take advantage of the natural elements. From there we pass it on to our in-house design team for them to mock up and give you a look at what your home may look like!
Costs may be involved in this process, however from initial contact, these figures will be made available.
Our Australian franchisor began operating in 2006, they have over 30 franchises and growing and are now operating in New Zealand and the United States. Green Homes New Zealand commenced business in 2016 and is also expanding its network across the country – we currently service the Coromandel, Auckland, Christchurch, Taranaki, Tauranga and Wanaka/Cromwell/Queenstown areas.