"We were wanting to build a new home that was energy efficient, easy to heat and cool, as well as being efficient to build"
say proud new homeowners Chris and Georgette McAlpine.
Georgette McAlpine and Green Homes Christchurch Design & Build Consultant Geoff Bouterey at handover.
"We knew we wanted a home that was super-insulated including thermally efficient windows and the smallest number of corners to reduce heat loss/gain. We had looked at a lot of showhomes in the Christchurch area as well as internet searches to find something that we liked.  After weeks of research we designed a plan of what we wanted – being two squares with one being the house and the second being the garage which was offset to protect the house from cold southerly winds.  Along with our plan we had a list of must haves and wants.

We went back through the showhomes again including those in Rolleston, Green Homes was last on our list to visit and it was almost closing time.  We were impressed with the layout, front door and finish of the Rolleston Green Homes home. Geoff was with another set of clients which gave us time to view then measure every room and enable us to visualise our plan.  We gave our plan along with our list to Geoff who had it costed out for us. We had also asked another building company to do the same however Green Homes came back with a more competitive price that allowed us to include not just our needs but also many of our wants such as solar panels.

We wanted our build contract to be a fixed price with little or no variations to give us (and our bank!) certainty regarding the price.  Geoff was able to list all the items right down to the hand towel rails in the bathrooms using a new Green Homes tool.  I imagine that we were the most particular of customers for Geoff and his team as we wanted every detail fixed before agreeing the contract!

The contract was agreed, building consent obtained and the build started.  We came home one night in April to find the site scraped and the next night to foundations being put in place. Biscuits were baked and left on the site for the building team to have.  As we live on site in our cottage, the building team could benefit with fresh biscuits at least once a week although they also found that the Oxford Bakery had fabulous pies!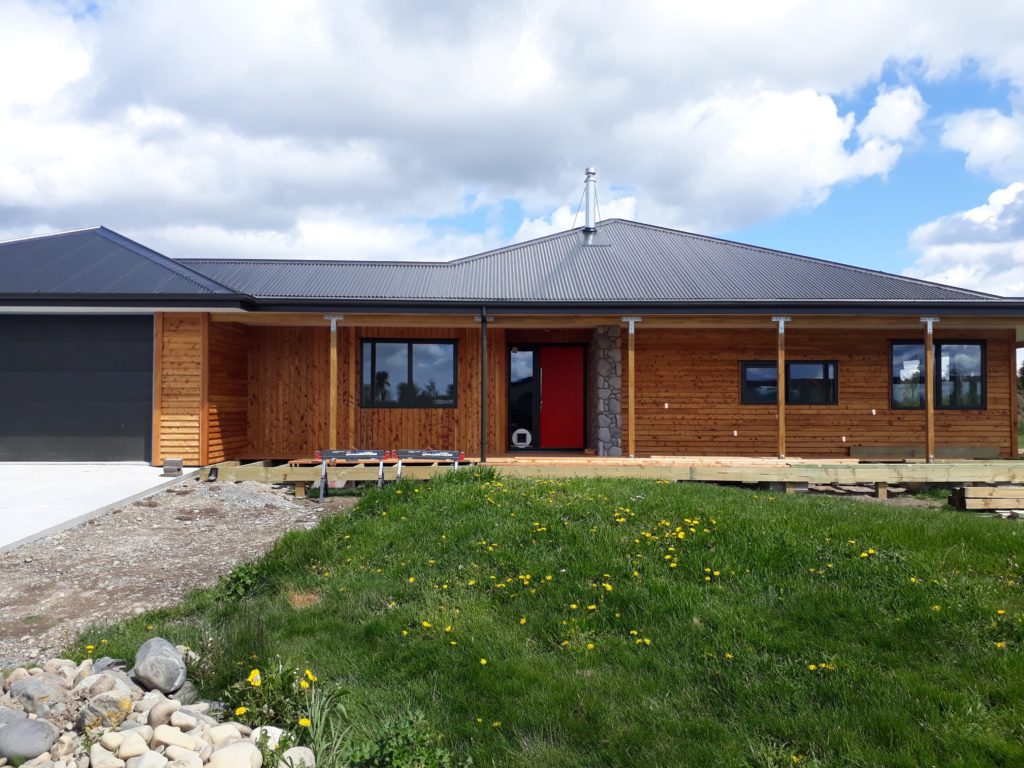 The build continued and we started to make the extra things that we wanted in our new home. Demolition timber from buildings damaged in the Christchurch earthquakes was sourced along with timber from other places eventually almost filling one of our barn bays. 
This timber has been used in various ways throughout the house – rimu 4×2 were laminated together to form the vanity benches in the two bathrooms, the native timber (rimu, kauri, matai, kahikatea, beech) along with jarrah has been put up on the floating wall that separates the walk behind wardrobe from the main bedroom as our bedhead. In the lounge there will be a jarrah entertainment unit and shelving to go with the jarrah table and kitchen bench light both of which were made from power pole crossarms.
The bench and shelving units in the laundry are made of Tasmanian oak and the library shelving will be Canadian Oregon from the McKenzie & Willis building where Chris used to work.
Green Homes were easy to work with in regard to these additions with Tom, the Green Homes Project Manager for our build,  giving us advice as to when he and the build team would require our additions to be completed so as to not hold up the project timeframe.
As part of the fixed price contract we added a 2.6m wide verandah on the north and east sides under which is a 100m2 deck made with New Zealand Oregon timber.  The verandah will give us shade from the hot summer sun while still letting in the low winter sun and the deck is a fabulous place to sit, look at the mountains and enjoy a quiet drink.  The deck will be finished with rock gabions hiding the gap under the deck as the house foundation had to be built up by 400mm to meet Waimakariri District Council consent requirements.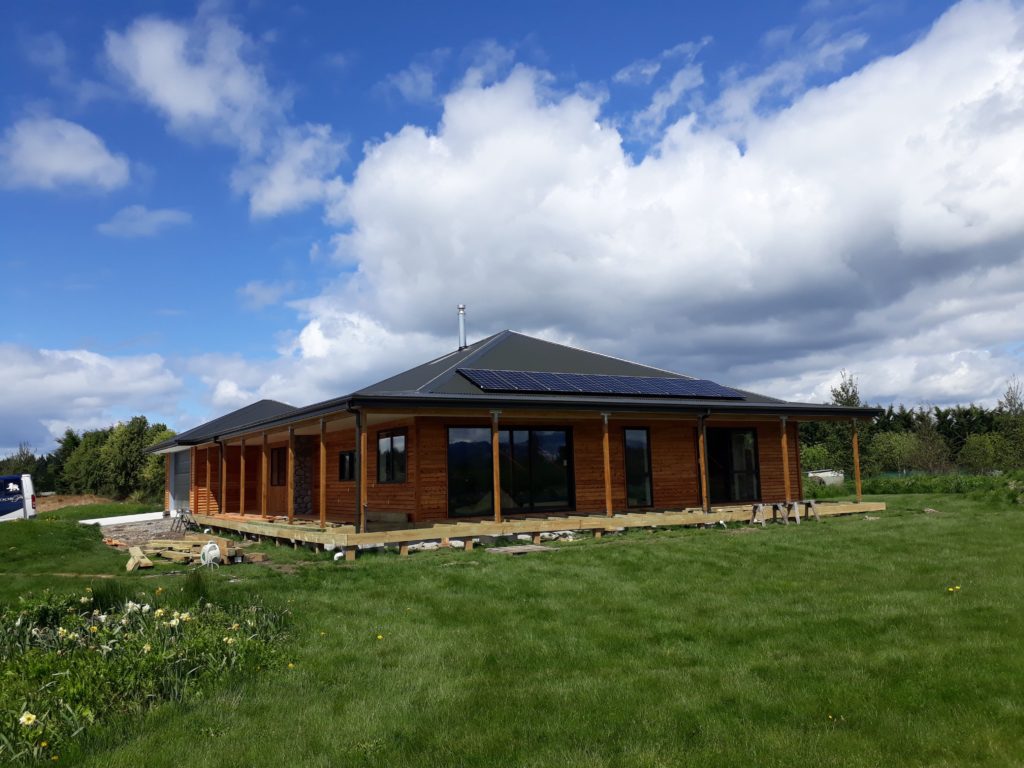 One of the things that we wanted, and which was built into the fixed price contract, was 140mm wide external walls, with 90mm being for insulation and the 50mm being for pipework and an insulation blanket. We also have a 140mm wide structural support wall between the lounge and bedrooms which has been insulated providing quiet areas in the bedrooms.

Some of the things we have noticed since we have moved in, is how steady the inside temperature is, as it hovers about 21deg, and how quiet the house is.  The 2.7m high ceilings along with the 2.2m high by 900mm solid core doors make the rooms seem bigger.  We incorporated some aspects of the Lifemark scheme with 1.2m wide hallways and wider doors to allow for wheelchairs or walking frames if we needed these in the future.

The team at Green Homes have been great to deal with (most of all Geoff, Tom and Olivia). Geoff was very patient with us as we worked towards finalising the fixed price contract. Tom provided great advice, service and finishing work after the builders finished up. Olivia sent us the invoices promptly each month along with all the other administrative services on the build.

There were a couple of things that didn't quite go as well as we wanted – what build is ever perfect?! – however the Green Homes team were able to resolve these for us.  Tom was great to work with over these issues and we appreciated his work for us.

We are looking forward to spending winter in our new home anticipating that the super insulation will keep the heat in during winter as well as it keeps the heat out so far this spring/summer. We don't know why so many people and building companies only build to minimum insulation standards, we understand that sometimes it can be an extra cost upfront however the extra insulation makes such a difference over the long term. This extra insulation is one reason why we chose Green Homes over other building companies.
Advice we would give to other people looking to build with Green Homes is to go with the extra insulation including the garage door, look at the all the options available and choose what works for you, not the market. The Kitchen Maker team were fabulous – even delivering the kitchen components late on Friday night ready for Saturday morning.

Green Homes and their build team hadn't had a build quite like ours before with macrocarpa cladding on the whole house.  It is certainly very different from most new builds!  We think it looks stunning with the natural macrocarpa cladding, a bright red front door and the wide verandah. It looks embedded in the landscape with trees close to it, the mountains forming a backdrop with the rock gabions and stone wall anchoring it.

We would recommend Green Homes to other people looking to build – we wanted a new home that was energy efficient, easy to heat and cool and efficient to build and we certainly got all that and more".