CREDENTIALS, EXPERTISE & OUR CUSTOMER GUARANTEE.
Knowledge & trust form the foundation of everything we do for you. At every turn, excellence in service and expertise is guaranteed.
Green Homes New Zealand is the only builder in New Zealand to have received certification from the International Standards Organisation for design and construction of energy efficient homes (ISO 50001)… we're especially proud of this accreditation, because it means we can promise you a degree of quality and service simply not offered by other builders.
Just compare the difference in checks and balances between GHNZ and everyone else.
WHAT IS ISO 50001?
It's a rigorous audit process relating to effective energy management, undertaken by an independent and government accredited organisation known as the "Conformity Assessment Body" … and GHNZ is the only builder in Australia to have it.
 WHAT DOES IT MEAN FOR YOU?
In a nutshell, this accreditation means you know what you're getting – nothing but the best! Your Green home will be independently checked to ensure every component conforms to strict energy management guidelines.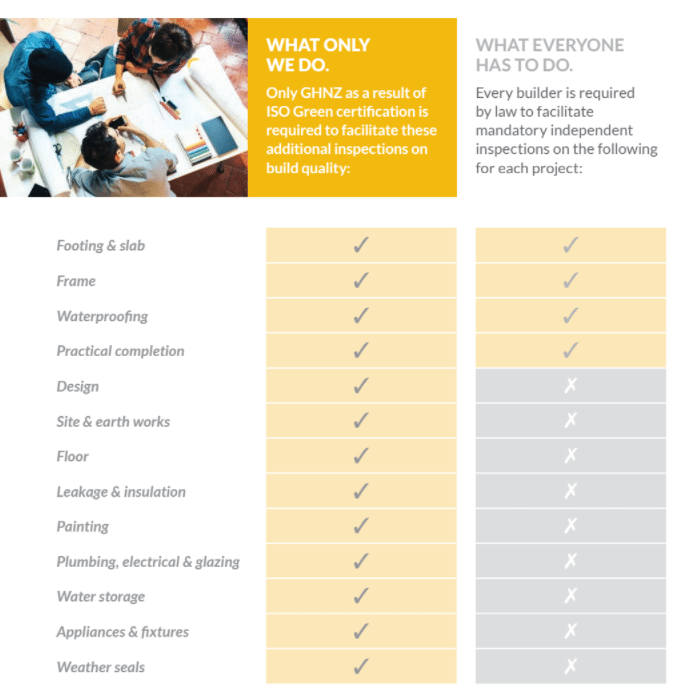 GET A FREE STEP-BY-STEP GUIDE TO BUILDING A GREEN HOME