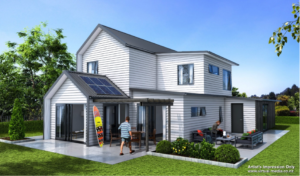 The experts over at Green Homes have qualified builders ready right now to construct your home just the way you want it.
"If you have consented plans that you want priced and the job started as soon as then give us a ring," says Green Homes general manager Andrew Olsen.
Now is the time so seize the opportunity to work with the only builder in New Zealand to be certified "Green" by adhering to ISO 50001, a specification created by the International Organisation for Standardisation (ISO). "We have several projects coming up later in the year but have a gap that means we can get started as soon as we get contracts signed," adds Andrew.
Not only can they build to your existing plans, they can also advise you on aspects that will improve your home's efficiency. "These aspects that don't affect your building consent such as increased insulation, led lighting, WELS rated tapware and pre-wiring for Solar, battery & EV," advises Andrew.
Green Homes New Zealand are specialists in all things futureproofing so you know that you are in safe hands when it comes to building a long-lasting sustainable home.
A green home is also great for your bottom line. Since 2014 there has been a significant increase in registrations for Homestar, a New Zealand specific rating tool that measures the energy, health and comfort of houses. This means that green homes will have improved marketability and will easily attract tenants and to command higher rents and sale prices.
Reasons to build a green home are abundant. Not only does it reduce your impact on the environment, a green home is economical to run, provide a healthier, more comfortable living environment and it should ensure a better resale return just to name a few.
Contact Green Homes:
Phone: 09 974 0863
Geoff Read: 0274 955 111
Geoff Read Email: Geoff.read@greenhomesnz.co.nz
Freephone: 0800 33 00 00
Email: info@greenhomesnz.co.nz
Contact MediaPA:
Phone: 0274 587 724
Email: phillip@mediapa.co.nz
Website: www.mediapa.co.nz
Facebook: www.facebook.com/MediaPA
Twitter: twitter.com/NZ_MediaPA