As our lifestyles become more and more hectic, we seek new and interesting ways to bring a sense of peacefulness to our lives. Thus, it's no wonder that the trend of bringing textures and elements indoors has become so popular for that naturally authentic 'green' vibe. Nature-inspired designs are not only charming and stylish, but they also exude peacefulness and tranquillity that transform our homes into calming sanctuaries. In addition, with expanding eco-consciousness, we aim at creating eco-friendlier homes by introducing inspiring natural and organic materials. Therefore, if you want to give your home a natural, organic touch and create an ambience of effortless beauty, you should welcome nature into your home.
1.    Making 'garden-variety' brick into a statement
A bare brick feature, be it an accent wall, a pillar or some other architectural element, will give your home a rugged yet stylish appeal. The reddish hue of brick can create an atmosphere of warmth and break the monotony of a monochromatic backdrop. Its texture will add interest to your space, enabling you to create a stylish contrast against smooth surfaces. Furthermore, brick can also help you give your home an industrial appeal, especially when combined with leather and wood. For those who would still like to maintain a subtle, neutral look in their homes, brick coloured in off-white or soft beige can be an understated, but a suitably chic backdrop to other elements.
  2.    Wood you try this?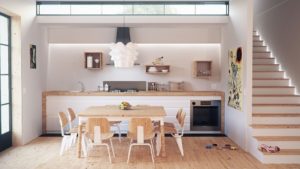 As one of the most popular materials, timber has always had a special place in our homes. Varying in colour and texture, wood can be used for different effects and combined with numerous interior design styles. Furthermore, you have a range of eco-friendly options when it comes to timber/cedar that you can use in your home. Cork, bamboo, salvaged and reclaimed wood are all beautiful options that will bring warmth to your space without harming the environment. While cork can be used for a lovely backdrop, reclaimed or salvaged wood can be used for furniture and storage solutions. In fact, reclaimed wood has a unique, rugged appeal that can help you create a rustic look in your home.
Bamboo has also gained great popularity and its applications are widely used in interior design, especially as a sustainable flooring material. Implementing wood features with innate flaws and imperfections can help you create a truly unique atmosphere in your home. Finding beauty in imperfection is the main principle of wabi-sabi, an enchanting interior style that has emerged as one of the most popular trends in 2018.
3.    Layered natural fabrics for pre-winter cosiness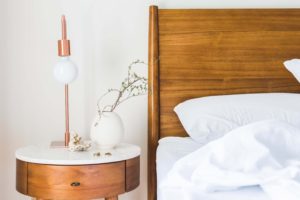 Combining different natural materials will help you create a layered, natural look in your home. Not only do natural, organic fabrics create a feel for subtle elegance, they are also healthier than regular materials that are typically treated with chemicals. Organic cotton, wool, leather, jute, hemp, rattan, wicker and sisal are all stunning, eco-friendly options that work well with each other. For example, leather or natural fabric furniture combined with layered jute rugs and soft cotton throw pillows will create a stylish contrast in any home. Furthermore, organic cotton used for bedding is a healthier, safer and cosier option that will inspire relaxation and peacefulness in your bedroom.
 4.    Stone grounds, and harnesses the elements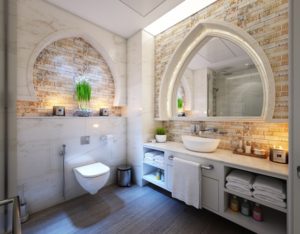 Roughly cut natural stone can turn any wall into a stunning focal point of a room, bringing a unique organic touch to a space. No two stones are the same, which means that your home will truly gain an authentic character the moment you implement this material. Natural stone has a range of different applications in a home. You can use it for a bar backsplash, accent wall, kitchen countertops, beautiful freestanding bathtub and other elements. Natural stone can also be used as a flooring material, especially in modern homes that feature a sleek, clean design. Ranging from quartzite and slate to marble and sandstone, stone flooring is a truly enticing home feature.
 5.    Planting a bit of freshness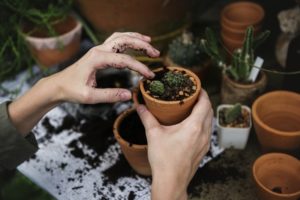 As the most refreshing natural accessory, plants are a beautiful home embellishment that will truly liven up your space. Bringing a vibrant splash of green, plants will create an atmosphere of peacefulness and serenity while also creating a healthy home environment. By acting as natural air purifiers, houseplants absorb harmful toxins and release fresh oxygen, increasing your indoor air quality and enhance health. Consequently, your home will feel more open, pleasant and positive, enhancing your sense of well-being. From stunning green walls and vertical gardens to hanging planters, potted plants and succulent terrariums, decorating with plants has never been more inspiring.
Welcoming nature to your home will help you exude a chic, organic appeal while also contributing to environmental preservation and transforming your space into a peaceful retreat – truly a green home!