Every New Year comes with some resolutions and now we're approaching the Autumn equinox we hope you're checking off a few! Everyone wants to experience personal progress, shape a new reality, and reject bad old habits. Mick Jagger said long ago that "old habits die hard", but you can create a new and original environment where you and your home can make it happen? Why not fill your home with positive vibe? Throw out old and depressing junk and bring some new energy between your walls.
2018 I still bringing us some new and hip trends that you should take into consideration if you're up for a change. Since there is so much choice, here are some ideas you might find interesting.
Use recycled material
We're living in a world of universal exploitation. Using eco-friendly materials is one way of making it sustainable. You can find beautiful pieces of reclaimed wood that will fill your living room with new energy. Every piece of recycled furniture has a story, just like you have yours. They are starting a new life in this new form, so you can make a start together.
The same works for the other recycled materials, like carpets, blankets, lamps, or chairs. These handmade accessories will embellish your home and give it a unique character. A combination of different textures is another powerful way of filling the space with a fresh feel. Chandeliers made of rattan or wicker, carpets made of wool, lamps made of marble and metal, or cushions made of macramé create…this is just a small list of suggestions.
Pick the right sofa
Choosing colours for your living space and filling it with stylish and unique furniture gives your home a real spruce up. But let's be honest, the backbone of every home is a sofa. Everything revolves around it – when friends come by, when you rest with your family after a plentiful Sunday lunch, or when you are alone watching TV it's a must have.
To make your home extra cosy and friendly – consider seeking out a fine quality chaise lounge suite from your local furniture store. When you pick the one that you like, you'll see how it will change the image of your home. Imagine laying on it in the half-dark of the evening, reading your favourite book with the light of the lamp next to you for a bit of ambience.
Make your home green
People have been used to greenery throughout our evolution, but a modern urban life far away from nature has taken that away from us on most occasions. Bringing in foliage from the outside to the inside of your home is a great opportunity to energise your living space. Arrange potted plants throughout your apartment or create a vertical garden on the walls of your balcony and turn it into a green oasis.
Plant a little garden in your kitchen. We are surrounded with stories about pesticides and GMO, so you can take over and plant lettuce, cabbage and brussel sprouts in little pots close to your kitchen window.
And simply, paint your walls green and bring it alive. Green is the colour of nature and available in multiple shades. It represents life, fertility and growth. Make your home a natural shelter of harmony and balance.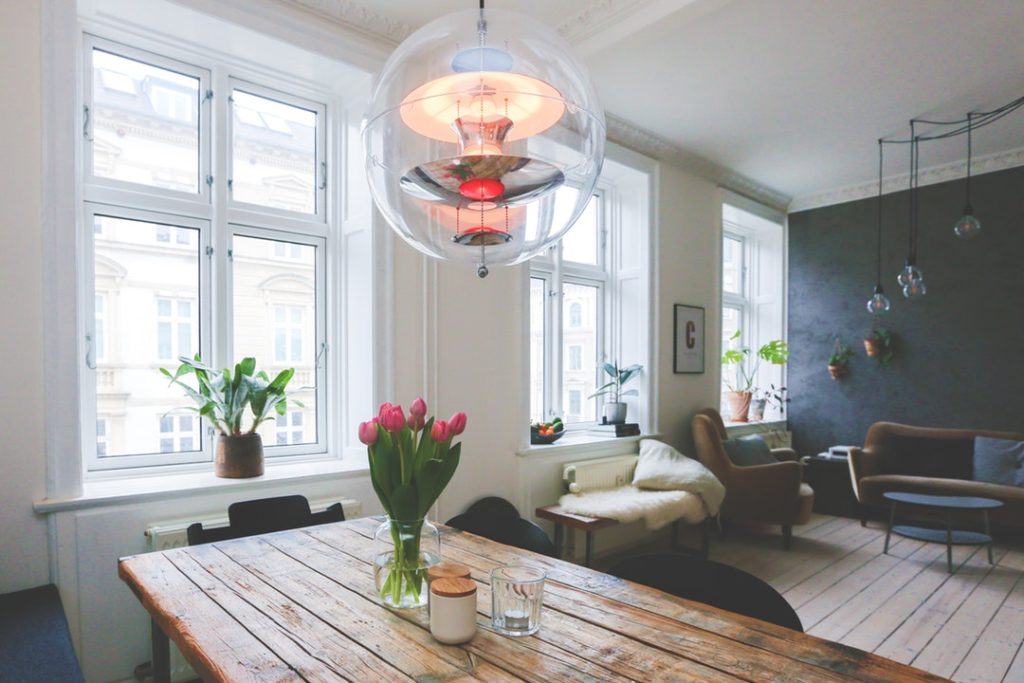 Provide more sunlight
A fabulous way to fill your home with positive energy is to secure a lot of sunlight. Large windows and light colours on your walls give your living space a lot of vitality. Open floor-plans with skylight windows bring in more sunlight and extra spaciousness. Homes with pitched roofs and exposed trusses don't lack the feeling of openness, either.
These suggestions are also eco-friendly, because you will use less of artificial lighting if you secure enough natural sunlight in your home. It will provide more light for your greenery, make your furniture and colours more vivid, and it will make you more comfortable in your home.
A home is a reflection of one's personality. Living in an eco-friendly way makes you and your environment just that much better. Combine stylish eco-friendly accessories and make your home an oasis, a statement of positivity and progress.