Green home building is on the rise in New Zealand, and one incentive for the tenfold increase in Homestar ratings (which measure efficiency, warmth and health) is the wellbeing of occupants.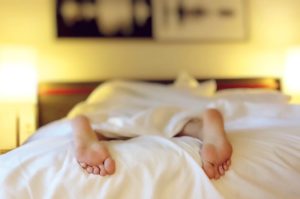 Sleeping well at night is one important aspect of good health and it really can be a challenge in warmer months. We've mostly likely heard a bit lately about how to keep your home cool but going natural with the bedding really helps on those humid, balmy nights.
To get deep and healing rest, while also doing your part for the environment, we recommend adding eco-conscious sleeping options to your home. When you choose mattresses, toppers, sheets, pillows, pillowcases and comforters and that are natural and planet-friendly, you'll avoid the potential toxins that may be present in conventional sleep products and your skin will be able to breathe easier.
Create a healthier home with green mattresses and bedding
You care about the planet. You also care about your health. When you switch to green mattresses and bedding, you'll care for the planet and take better care of yourself and your family. You may not realise that some non-organic mattresses sometimes contain an array of toxins, such as petroleum-based materials, formaldehyde, Boric acid and flame retardants. These toxins may emit VOCs or be linked with cancer, allergies, asthma and nervous system problems. Bedding made from non-organic cotton may contain Arsenic, mercury and a range of other toxins. Why put these toxins next to your skin and the skin of loved ones, such as children, when you just don't have to?
What to look for from eco-friendly mattresses
When you're shopping around for eco-friendly mattresses, look for styles with supportive cores crafted from seed oils that are all-natural, such as soy seed oil and sunflower seed oil. These pure and organic oils are mixed with water to create foam, and then cured. This foaming and curing process results in material that is contouring and sturdy. Planet-friendly mattresses should also include quilting made from one hundred percent cotton and covers that feature cotton-bamboo blends.
When it comes to organic mattress firmness, what's right for one person may not suit another. Medium firmness will be fine for most people. Those who have back problems tend to believe that firmer mattresses are right for them. Whichever type of mattress you prefer, it's safe to say that there is an organic alternative.
Look for natural latex mattress toppers
Mattress toppers made from one hundred percent natural latex foam are sensible options. They shouldn't contain synthetic latex or fillers. Designs that are resistant to dust mites and that are anti-bacterial are available and recommended. An eco-friendly mattress topper should be soft, with a cover that's machine-washable. It should also provide a gentle level of support for a truly comfortable sleep. The mattress topper should be crafted from breathable material that is long-lasting. A great mattress topper will protect your mattress and boost comfort. It will be thicker than a mattress pad. If you'd rather buy a mattress pad with less density than a topper, organic styles are available. Look for a mattress pad made from organic cotton that is unbleached. Mattress pads are designed to prolong mattress product life, rather than to improve comfort.
Organic cotton sheets are a great investment
To put the finishing touch on your new eco-friendly sleep solution, you should invest in organic cotton bedding. These types of sheets are hypo-allergenic because they don't have the usual chemical additives and you don't get that uncomfortable 'static stick'. They are eco-friendly, because cotton used in these sheets is produced by farmers who don't use toxic methods to raise their cotton crops. It's estimated that fifty percent of non-organic cotton is grown with chemicals that are toxic. Ten percent of all pesticides used worldwide are utilised for non-organic cotton production. Luckily, organic cotton is out there. It's becoming a more popular choice for bed sheets, with good reason. Organic cotton farmers never spray their crops with toxic chemicals.
Don't forget about your pillows
Pillows should be also non-toxic and keep your head at a regulated temperature. Look for styles crafted from natural latex and natural fill, such as Kapok. Kapok is a supple natural fiber which is derived from Kapok trees. Every pillow should be wrapped in cotton that is certified organic. The best eco-friendly pillows are plush and fresh. They are also handcrafted and vegan-friendly. Pillows should be free of pesticides. You will have choices when it comes to natural fill for organic pillows. Kapok is a good choice and one other natural fill to consider is Buckwheat hulls. Pillows with Buckwheat hulls are perfect for those who suffer from allergies to feathers or foam. Pillows filled with Buckwheat hulls are supportive of the neck and the shoulders.
Sleep tight with eco-friendly pillowcases
Organic pillowcases may be crafted from organic cotton or wool, but many modern consumers are choosing style made from organic bamboo textile. This plant material is renewable, so it's definitely planet-friendly. When you opt for organic bamboo, you'll love its feather-soft feel, smoothness and hypo-allergenic properties. Some organic bamboo pillowcases are crafted with a mixture of organic bamboo and charcoal powder. Styles infused with charcoal powder offer long-lasting freshness, even when they aren't washed frequently.
Duvets made from organic materials are smart buys
You may choose from organic comforters or organic duvets. Designs crafted from organic wool, such as merino wool, will offer an ideal blend of comfort, durability and quality. Organic wool comforters and duvets are good choices because they keep people warm, without keeping them too warm. These comforters and duvets breathe to provide just the right level of ventilation. If you opt for a duvet over a comforter, you'll need to ensure that both the duvet inner and the duvet cover are made from organic fibers. Some duvet "inners" are available in two styles. The winter styles offer more warmth and the summer styles are lighter.
Treat yourself to organic sleep solutions
You've chosen a residence with an impressive HomeStar rating, because you care about the world around you. Treating yourself to organic sleep solutions will be a great way to pamper yourself and access amazing sleep that benefits your health. When you choose an eco-friendly mattress, a natural latex mattress cover and organic cotton or bamboo bedding, you'll be doing something good for the planet and your own body.